For the fifth year, Seabrook Island Birders (SIB) participated in the annual Christmas Bird Count (CBC) on Friday January 3, 2020 as part of the Sea Islands CBC. This was the 120 Christmas Bird Count since its creation in 1900.
Aija Konrad – CBC North Beach – Ed KonradThe day started considerably mild with temperatures in the high 60's, but strong winds and rain, fog and dropping temperatures later in the day slowed our birding. Eleven volunteers birded in "the field" at seven major "hot spots" on Seabrook Island:
North Beach
Camp St. Christopher
Palmetto Lake
Jenkins Point
SIPOA Maintenance Center
Equestrian Center
Bohicket Marina
Aija and Ed Konrad win the prize for the "Most Steps" in the day!
Aija's steps – CBC North Beach
Eight additional volunteers birded their backyard feeders and/or in their neighborhood. Highlights included the Ruby-throated Hummingbird and an Orange-crowned Warbler!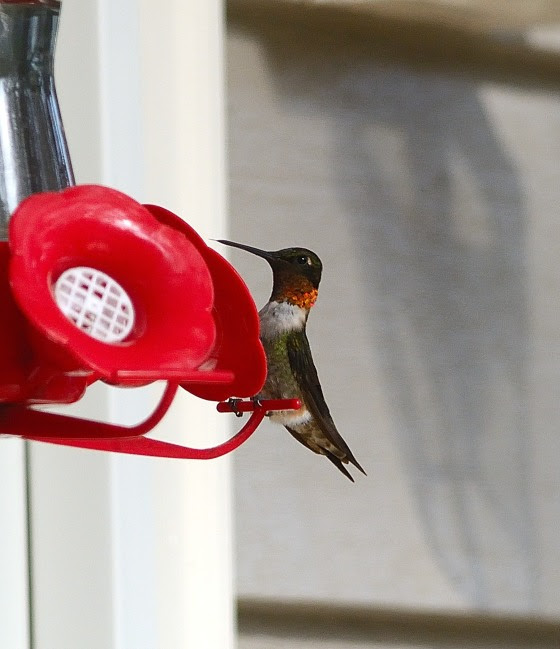 Ruby-throated Hummingbird – Dean Morr
Orange-crowned Warbler at feeder – Patricia Schaeffer
A total of 98 different bird species accounting for more than 3,000 birds were sighted by our volunteers during more than 80 equivalent hours.
Three of our members were able to join Aaron Given at the Kiawah Town Office for the annual Sea Islands CBC Countdown. More than 150 species were documented in the 15 mile diameter circle which includes Seabrook Island.
Sea Islands CBC Team
We appreciate all the time and effort made by our 19 volunteers and hope even more will join us next year for this annual bird count!
Shorebirds – CBC North Beach – Ed Konrad
Piping Plover – CBC North Beach – Ed Konrad
Ruddy Turnstone – CBC North Beach – Ed Konrad
Deer – CBC North Beach – Ed Konrad
Bonaparte's Gull – CBC North Beach – Ed Konrad
Short-billed Dowitcher – CBC North Beach – Ed Konrad
Wood Storks – Jenkins Point – Nancy Brown
Pileated Woodpecker – Palmetto Lake – Nancy Brown
-Submitted by SIB
(Image credit: Ed Konrad, Dean Morr, Patricia Schaeffer & Nancy Brown)